Vi kan erbjuda både för hemmaanvändaren och proffsen.
Här kommer lite för hemmabruk, men kan även passa tex cirkusartister mm


AIRTRACK STRATOS
För den seriösa hemahopparen :)
Take your training to new heights.
5m long, 1.4m wide, 20 cm thick, The AirTrack Stratos is our largest AirTrack for home use.
The AirTrack Seam Protection makes sure it can endure years of heavy training!
Pris 10 nov-15 dec 10.995 kr
BEFORE 11.995 kr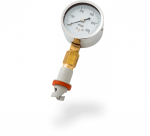 MANOMETER
Pressure gauge that measures up to 250 mbar. Fits all our inflatable objects.
This AirTrack manometer is perfect for all AirTrack Factory inflatable equipment. This high quality pressure gauge measures up to 250 mbar. Use the manometer to get your inflatable equipment to the perfect pressure!
Pris 1.295 kr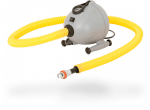 OV10 BLOWER
OV10 Blower inflates up to 250 mbar.
This AirTrack blower is ideal for AirBeam, AirTrack Training Set, AirRolls and other small to mid sized objects. This OV10 blower Inflates air equipment with up to 250 mbar of air. This blower cannot damage your air product and is very easy to use.
High Pressure, Fast delivery

Pris 1.295 kr